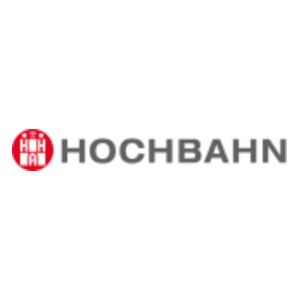 Reference: Hamburger Hochbahn AG – Success story with cimoio
HOCHBAHN is more than a transport company – it is first and foremost a mover of the future. Because its mission is not just to get passengers from one place to another. It also spends a lot of energy on saving energy and reducing exhaust gases and noise in Hamburg. Her goal: 0 emissions by 2030. For over 100 years, she has been a pioneer for Hamburg, always with sometimes revolutionary concepts. With the first subway as well as with Hamburg's first e-bus. For 100 percent quality of life in the most beautiful city in the world.
And because Hochbahn knows what it has in its staff, it does a lot to develop the team professionally and personally – via the learning platform based on cimoio.
Thanks to cimoio, we have a platform through which our colleagues can book all internal training courses. The qualification management also helps us to keep an overview of the current status of necessary qualifications and notifies users and their managers promptly of any necessary re-certifications – that's super helpful!
Until 2019, Hamburg Hochbahn AG used various tools for the administration of its learning elements. For example, a separate tool for training administration and an additional platform for the delivery of digital learning content. As a result, not all processes were digitized end-to-end.
Hamburger Hochbahn AG was looking for an integrated system for the administration and documentation of all personnel development and continuing education measures as well as regulatory requirements. The new system was to create a consistent learner experience in which users could book offers independently.
In particular, the qualification for obtaining the bus driver's license as well as keeping track of further qualifications was a core element in the system selection.
After deciding on cimoio, STL GmbH iteratively worked out the technical processes with Hamburger Hochbahn AG. Subsequently, the legacy data was transferred from the various source systems and the education catalog was structured. Finally, the regulatory requirements for the administration of driver's licenses were implemented with the qualification management.
With cimoio, Hamburger Hochbahn AG offers its employees an integrated system in which they can find everything they need for their further training. In it, they can find job-related training courses as well as offers for personal development. Users can make bookings for training and e-learning courses in a self-service process. Processengine has also been used to create processes for requesting external events that are not included in Hochbahn's standard training catalog. In the metro area, Hamburger Hochbahn AG is increasingly offering its employees the opportunity to prepare for upcoming exams in the self-testing process with e-test sets.
The learning offering via cimoio has been live since 2020. Both the professional training offer and the FREIZEIT plus offer for personal development open up a broad portfolio of further training opportunities for employees. The web-based application cimoio offers Hamburger Hochbahn AG the opportunity to provide a single point of learning for its employees. By recording multi-layered continuing education data, cimoio also provides great support in the implementation of continuing education controlling.
Link to the website of Hamburger Hochbahn AG
The Hamburger Hochbahn AG training catalog is not public and is reserved for employees only. On the website you can get non-binding information about the company.